Little All Star Monogrammed Baby Cardigan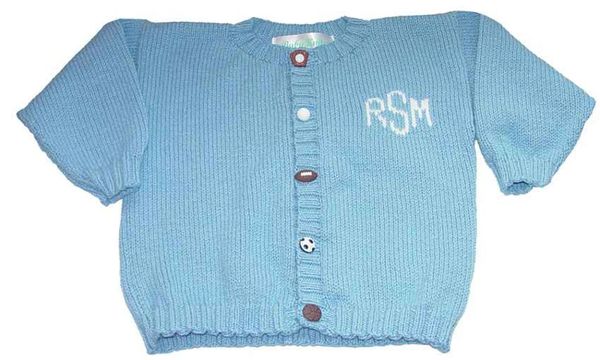 Little All Star Monogrammed Baby Cardigan
Classic Sports Cardigan for Your Little All Star

This classic monogrammed baby cardigan features a knit in three letter monogram and mixed sports buttons The button styles include football, baseball, basketball, soccer and golf. The monogram is displayed with the last name of the child in the center and in a larger font.
Available in a wide variety of colors and size for infants, toddlers and children to size 12. A monogrammed beanie and tailored knit pants are also available. Knit in the USA with USA grown cotton.
Samples are knit in Baby Blue/White and Red/White with mixed sports buttons.
Reviews
Featured Products